About Us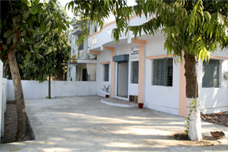 Having 25 years experience in the field of Engineering / precision machine parts, we started our New Venture - MAHAVIR MACHINE TOOLS - from 01-04-2006, as a manufacturer of high performance metal cutting Bandsaw machines.
Growth is synonymous with GUJARAT, so we selected Gujarat as our base.
We are having qualified & experienced team of Engineers and technicians. We developed FIVE models of different cutting capacity. (From 150 mm to 400 mm)
Starting with conventional hinge type Horizontal Bandsaw Machine, we also developed Fully Automatic Double Column Models of 240 mm to 450 mm cutting capacity. Thus we offer wide range of selection. Each machine produced is thoroughly inspected and trial run is carried out before deliver to customer. The basic training to operator is also available at our works.
Metal cutting facility is prime requirement of all the Engineering Units. We serve the industry by providing law cost and high performance machines. The Bandsaw Machine is to save Time, Material and thereby Money in manufacturing process, in basic operation of metal cutting.
Our primary GOAL is to create value of customers by offering 'MAHAVIR' brand metal cutting Bandsaw Machines, and after sales service at shortest possible time and reasonable cost.